An In-depth Look at the Best Software Providers in Online Casinos
Ever since players acknowledged the fact that they weren't required to visit a land-based casino to play their favorites games, the popularity of online casinos skyrocketed. So nowadays, online casinos are praised while a particular tool they use is overlooked. That is, software providers are probably the most underrated elements in online casinos.
Here, the question of why not is posed, and it's understandable since most players have a plethora of games to go through. Hence, players are only often concerned with winning. Now, the deal is, software providers have increased to match the ever-growing population of gamblers online. So currently, it's considered essential for players to know what they're getting into.
By that, here's a primer; software providers are the backbone of online casinos. They offer the diverse games you see across a variety of categories (live dealer included) and also the many payment options that you choose from. Likewise that last part, the perfect security that players enjoy in regards to their financial detail is due to the software backing the online casino. A studio's job is primarily to create a smooth experience regardless of which part of the online casino you visit.
Best Software Providers to Look Out for
The top software providers have had quite some time to perfect their various software and services. To the extent that you'll find them backing up most of the top casinos, you'll find online. We have all of listed them below, including why the gaming industry loves each one.
Note: Keep in mind that this is what the general audience loves, according to real stats. So we consider them one some of the best casino software.
NetEnt

Net Entertainment is a Swedish company born in 1996, and thus, has the know-how and also the time to polish their software till it became one of the best in the industry. They have released over 500 casino games, amongst which are the popular Dracula, The Invisible Man, Gonzo's Quest, Guns N' Roses, and Starburst.
Each NetEnt game has a 95-98% payout, and also, they come with innovative, cutting-edge graphics, sound, and play style. All of this creates an immersive experience that players can get lost in, playing any of their favorite games. We're talking slots, table games, live dealer, etc. The studio's lack of casino operation is another highlight. It allows NetEnt to focus solely on being a software provider (games and others), so there is no conflict between player interest and theirs. In fact, their interests are more or less the same with that.
Evolution Gaming

Founded in 2006, Evolution Gaming has come to be known as one of the best studios for live dealer games. The software provider has broadcast studios in the UK, Malta, and Latvia. All three studios are outfitted with the best, regarding technology (high-quality video cameras) and staff (friendliness and experience in handling games).
This is why most online casinos that you'll find always include Evolution Gaming as one of their various software. That is, while studios like NetEnt covers the slots department, Evolution Gaming comes to the rescue with their range of immersive live games with responsive interfaces. Favorite games from the software provider include Immersive Roulette, Hold'em, Blackjack, Three Card Poker, and Baccarat.
Microgaming

Microgaming is one of the 'Big 3' when it comes to top software providers for online casinos. The studio got established in 1994 with the release of the first-ever online casino. Over the decades, they have managed to amass a library of over 850 games spanning the categories slots, table, live dealer, and jackpots.
Games are known for their clean, intuitive, and immersive interfaces; which never slows down regardless of the device you're playing on. Having said that, Microgaming is mostly known for two categories of online casino games. The first is slots and the second is jackpots. In the case of the former, games such as The Dark Knight Rises and Lion's Pride come to mind. As for the latter, jackpots such as Mega Moolah, Major Millions and King Cashalot have got numerous players hooked, due to their considerable returns.
IGT

International Game Technology is one of the oldest software providers for online casinos. The studio launched way back in 1975 where they started with designing slot machines and games for physical casinos. Nowadays, the game maintains its rich tradition through the introduction of slot games to online casinos. Games such as Pharaoh's Fortune, Cleopatra, and Crown of Egypt are amongst the best in the gambling industry.
Other than that, the software provider's MegaJackpots Progressive Jackpot is the last highlight. They offer players the opportunity to have a go at multi-million $ jackpots in the form of MegaJackpots Cluedo and MegaJackpots Monopoly. IGT has kept up with the trend, and their ability to create online slots that have the same experience as their land-based counterparts shows this.
Play'n Go

Play'n Go, like Net Entertainment is a Swedish software provider that was opened in 1997. It's also one of the best casino software created. The studio has licenses from countries such as UK, Denmark, Malta, and Gibraltar. That said, the software provider's strengths lie in its extensive range of slot and table games. Major emphasis is placed on the former by both gamblers and online casinos.
Why? Because slots games from the studio use distinct designs and contain features that make them unique to the provider. Some of their most popular slot games (in over 200) include Pimped, Xmas Joker, Gemix, Enchanted Meadow, and Mystery Joke. Finally, the studio is known for its smooth and immersive experience regardless of the platform (desktop or smartphones) you choose to play.
NYX Interactive

NYX Interactive is another Swedish casino software provider that was established in 2006. Their highlight, though, is that they've integrated other software providers such as Ongame Poker Network and NextGen Gaming to increase their reach to online gamblers drastically. The studio currently has several games in the categories slots, lottery, table, and bingo.
Also, the studio is up-to-date on technological advancements that concern desktop and smartphones. The best games in the online casino software's repertoire include Roulette Master, Merlin's Millions Superbet, Fruit Warp, Spin Sorceress, and Medusa II. All games (including the ones listed) feature rich graphics, with interfaces that are super responsive.
Yggdrasil

Yggdrasil is a software provider that's native to Malta and was launched in 2013. And its name has roots in Norse myths, as Yggdrasil means World Tree. That said, the studio doesn't have a huge library like Microgaming since it's still new. But its range of video slots and lottery games are original since they all offer a truly immersive environment to players.
The most popular games from Yggdrasil include Vikings, Golden Fish Tank, Holmes, and the Stolen Stones, Seasons, and Nirvana. Asides the environment, players love them for their list of integrated features which are fun and specific to each game. Likewise, the fact that the large payout percentages are actually rewarding keeps most people coming back to play some more.
Games Selections Offered
Online casino software vendors generally have games across a few, diverse categories. We have slot games, table games, live dealer games, and bingo. For each one, the experience generally depends on the gaming studio that made the game. Nevertheless, we'll be going through all of them.
Visually Stimulating Slot Games

The Slot games department is the most loved part of online casinos. For most software providers, they feature an average of 50 paylines, though in some case, the count can be in the 100 mark or more. Other than that, each software provider creates their video slots from the ground up. They all have their take on what slots should be like, so you'll find games spanning different themes. Gonzo's Quest from NetEnt is a perfect example here since the video slot's theme is that of a maverick Spanish explorer whose thirst of gold can only be rivaled by that of players.
Life-like Table Games

Table games in online casinos usually include the likes of Baccarat, Roulette, Blackjack, and Poker. For every one of them, you'll find different variants to play in online casinos. Still, some of the most common ones you'll find are European Roulette, Vegas Strip Blackjack, and Three Card Poker. Regardless of the one you later decide to play, the major similarity between most of these table games and their variants is that the studios all have their take on what the games should be like. Other than that, they all play by the same basic rules.
Immersive Live Dealer Games

Live dealer games are more or less regarded as an immersive mode of playing table games. Software providers have dedicated studios which have been outfitted with state of the art technology and fully capable dealers. The former allows HD rendering of interfaces from different angles, depending on how you want to play. Also, the best providers of casino software will allow you to choose how you want to play.
Bingo and its Variaties

Bingo is an extremely straightforward game to play, but the fact still remains that not a lot of software providers offer the game. For the ones that do, you'll find it in all of its variations. That is, you can play anyone between the 75-ball, 80-ball, 90-ball or 30-ball bingo variation. The 90-ball variation is the most common since it originated in the UK and is preferred in all of Europe. In US, the 75-ball bingo variation is preferred.
Random Number Generator Indicates Fair Play
RNG or Random Number Generator is a computer software based on a mathematical algorithm that randomly generates numbers. This software, if done right, makes sure that virtual games are not rigged against the player. The best way we can explain RNGs is that they're the backbones of software providers.
Table games like Roulette and even slots (reel symbols) all depend on the RNG since it gives both the online casino and players even advantage. Still, all this doesn't mean that RNGs can't be used against the players. This is why there are independent third-party agencies who frequently test the algorithm to see if the numbers are truly randomly generated.
Casino Games Now Offer Full Compatibility with Mobile Devices
Around the beginning of the iGaming, most people played on desktops. But due to the constant climb of mobile device users, all online casinos started optimizing their games for play on smaller devices. The reason for this is simple; mobile devices do not support Flash, so it was impossible for anyone to play games on-the-go.
For studios like Microgaming that started since the beginning of the gambling industry, they had it bad since they had to redesign their software. Newer studios like Yggdrasil had it much easier since they were well aware of what players wanted. Nowadays though, a simple browser with HTML5 support is enough to play literally any game that an online casino has to offer.
A Variety of Software Clients
Every gambler has the option to either download a casino's full library of games or use instant-play to their advantage. Below, we will be going through each of them in detail (pros and cons), though, know that you shouldn't limit yourself to either since the seamless transition between each is the highlight.
Download the Online Casino Software
Downloading the entire library of an online casino means that you get to skip on the loading times that you'll encounter if you play through browsers. Also, you get smoother gameplay since everything is stored on your device. This means that graphics are neater, while the sound is more realistic seeing as the studios are behind the creation of the software.
Still, as we said, there is a catch. If you decide not to use instant-play, you should know that online casino software is large in size and will take a huge chunk of your disk space. Likewise, if you download the software, you'll only be able to play on a single device. Other than that, you get convenience, which is needed if you're planning on doing long gaming sessions.
Instant-play Removes the Need for Downloads (Specifically in the Best Casino Software)
While downloading libraries does sound appealing, instant-play is far better, if the studio does it right. Take NetEnt for example; the software provider offers all of its games exclusively through instant-play. And to the knowledge of pro gamblers and others in the industry, the level of graphics, sound, and overall environment seen in NetEnt games still remains one of the best in the industry.
It's definitely faster and doesn't require any download. But at the same time, the loading times are a chore, though, in our book, the ability to play from any device counters that point. Still, don't expect that all studios have achieved the same level of optimization that NetEnt has when it comes to instant-play.
Omnichannel Casinos are on the Rise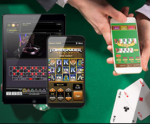 Online casinos, through the help of software providers, are on the move to create a central system for all the services that they render. In simpler terms, we can say omnichannel casinos are on the rise. And they refer to a casino that integrates multiple channels like land-based solutions, websites, social media presence, mobile applications, and many others. They essentially create multiple, seamlessly connected channels for players to use their services. The main advantage of this type of system is that players can choose the channel, most convenient for them. At the same time, the fact that you can resume any game where you left off is worth looking into.
The Potential of AI in iGaming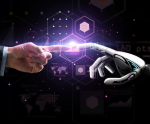 Artificial Intelligence, on the part of studios, is a potentially groundbreaking exploit for the gambling industry. This is regardless if you're the player or the online casino. In the case of the former, AI can allow players to beat the system, in the form of games such as Roulette or Poker. Or, it can help players by recognizing if they have a gambling addiction and thus, help them limit it. As for online casinos, AI development leads to better play against players, as the best programs have allowed casinos to beat even the top Roulette or Poker players. For both sides, it's a win-win situation that in time, when AI has fully developed, should definitely be capitalized upon.